I came real close to deciding it was time to let someone else have my Rescue Bike. In the end, I decided we're not done with each other. So it was time to finish some repairs and get back on the road.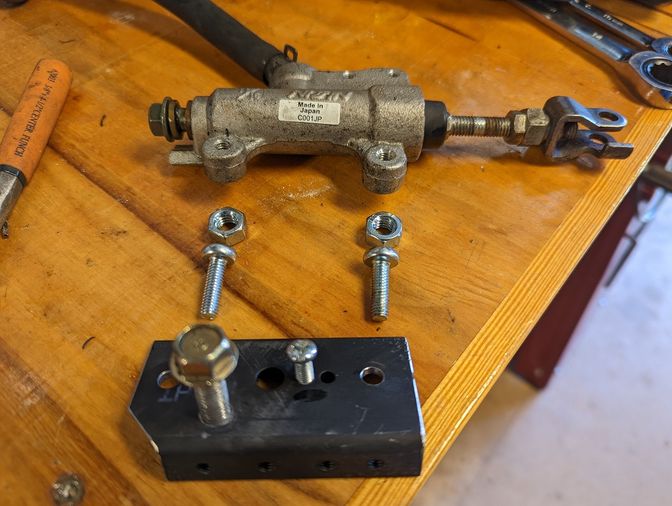 I had already rebuilt the '83 rear master cylinder once. It was too far gone, though, and in a year had turned into a mess.
The mounting holes on that master cylinder were at like a 45 degree angle. One on each side of the body. Nearly every other cylinder is like the one in this photo: both mounts on the same side.
I bought this cylinder off eBay from an '02 GL1800.
I made a bracket out of a piece of equipment rack rail. It is substantial and has a 90 degree bend that makes it really stiff. The metal is thick enough to be threaded.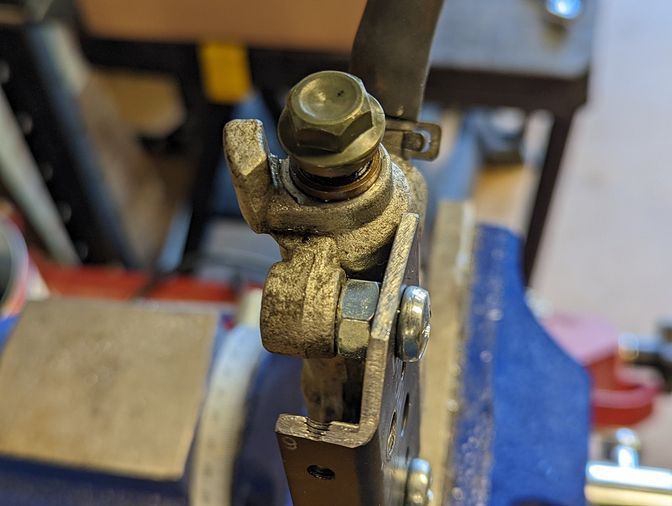 Out of my collection of nuts and bolts I found the right screws to hold the bracket to the master cylinder. (Never throw fasteners away!)
A couple of nuts make great standoffs.
It probably took me an hour of fit and trim, fit and drill, fit and file to get it just right, but by just taking my time and doing one step at a time, before long it was good to go.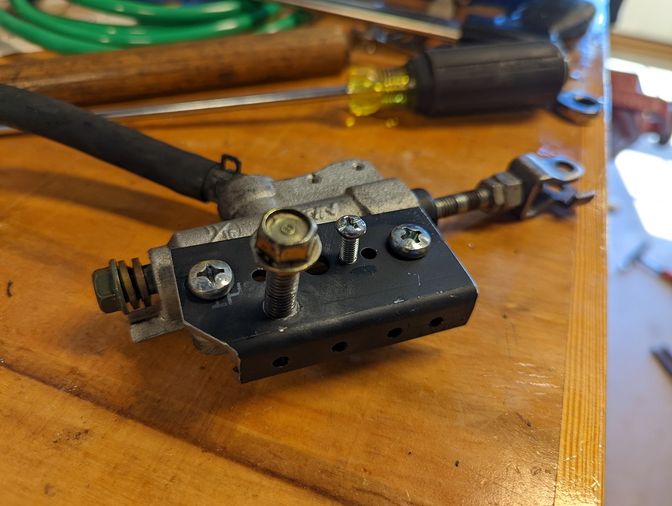 The universe smiled on my endeavor, apparently. The two screw heads fit just perfectly on both sides of the mount plate that is welded to be frame. That meant that the cylinder was held in the correct orientation "automagically". All I had to do was provide enough mass and torque to keep it there.
One of the original bolts does the majority of the work, and a smaller M5 screw acts as a helper.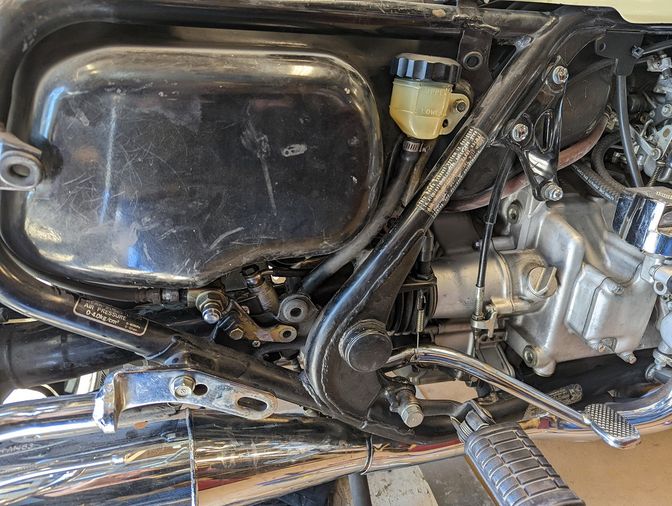 I was able to re-use the original reservoir, but I did pull the bellows that goes inside the cap off of the '02 version that came with the cylinder. It was a better design than the '83 version, and it had the exact same dimensions, so . . . no brainer.
I had to trim about half an inch off the threaded rod that pushes the piston. That took about 3 'fit, measure, look, disassemble' iterations.
A new brake line from HEL Performance finished out the system.
In the end, this works great, and hopefully will not be leaking anytime soon.
I still have to finish recovering from my big mistake, though. I broke one of my own cardinal rules: "If you're not totally comfortable doing it, don't do it." I ran the bike up a ramp to get it into my shop, and failed to anticipate a change in acceleration when the rear tire passed the little 'hump' in the foldable ramp. The lurch caught me by surprise and I went catiwhompus and banged the fairing into my door post. This is what it looked like afterward.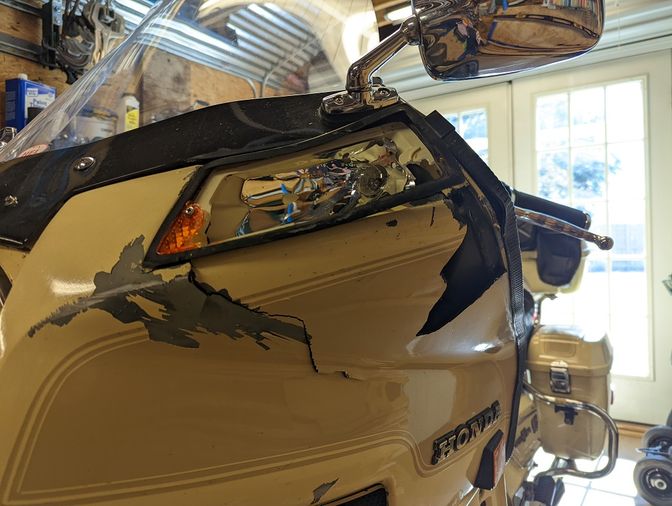 I took this video right after that. This link runs the video from Dropbox: https://www.dropbox.com/s/s7o1416pv08mv ... S.mp4?dl=0
I have the ABS all back together, believe it or not. The new windshield is due here in a couple of days. Then I'll check my valve clearances, change the oil, sync the carbs and take 'er for a spin. I'm really looking forward to that.
Me and this old bike just keep on keeping on. Just a couple of rusty old things that still work.