An old friend makes way for a new one.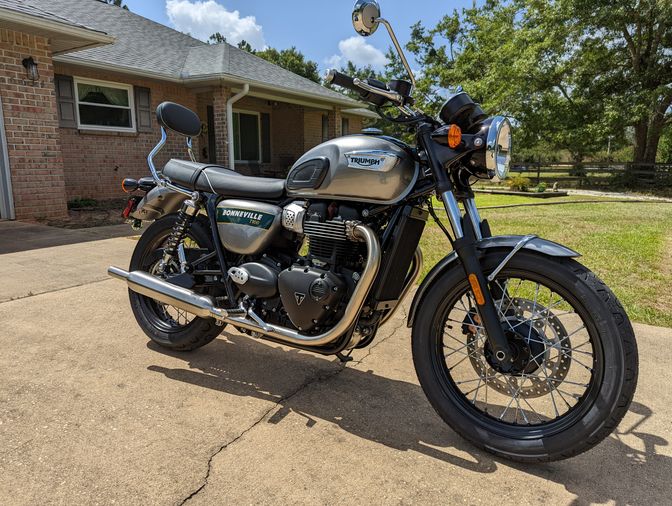 Oh. My. Gosh.
I miss the old Goldwing. But it only takes about three seconds on the new kid in town to lose any sense of reminiscence over saying goodbye to the old girl.
This is the 2022 Triumph Bonneville T100 Goldline Edition, and I'm here to tell you, this is one sweet ride.
900cc, single overhead cam parallel twin, 11:1 compression ratio, fuel injected, 64HP at 7,400 rpm, 59 ft-lb of torque at 3,750 rpm. Five hundred and three dripping-wet pounds of get out of Dodge quick.
The first thing I notice about this bike is how immediate everything is. Immediate acceleration, immediate stopping. Immediate response to steering changes.
This thing is putting the fun back in riding.
Don't get me wrong, I really loved that GL1100i. It was great for rides to the beach, rides to see my mother, and rides to distant places and overnight stays.
But this new bike . . . man. It's a breath of fresh air.
It takes me back to my very first bike when I was still a teenager and brand new to the U.S. Navy. In 1975 I bought a brand new 1976 Kawasaki KZ-650, the first one in the showroom in Lowndes County, Georgia. I rode it from there to the DMV, and did figure-8's in the parking lot for a State Trooper to get my motorcycle license. It was the most powerful thing I'd ever tried to control, and it was truly awesome in the real meaning of that word.
This bike is even more so. As far as I'm concerned, this is the perfect motorcycle. I know, I know . . . "of course you think that, it's brand new . . ." but hold on. Listen.
I've ridden a lot of different bikes over the years. Harley's, BMW's, Kawasaki, Honda, Suzuki, Moto Guzzi, but in my mind, this little bundle of joy is like the third bed for Goldilocks: just right.
I could have gotten a 1200cc engine or a more 'adventure' style bike, but this style and this size fits me perfectly.
What more could I ask for. A windshield? No, not really, although I did order the flyscreen today, mainly to keep the Florida sand off my instruments and phone.
Do I need a trunk and bags? Not really. A cross-shoulder bag holds nearly everything I need on any regular basis. Most of the time, the bags and trunk on the 'Wing were empty.
Do I need 800 lbs of motorcycle? No. I don't. Not anymore. Maybe I never did, but I did love that old beast.
But now she's gone, and in her place is this hot little number. And I don't feel bad at all.
This, my friends, is certainly A Thing That Works.